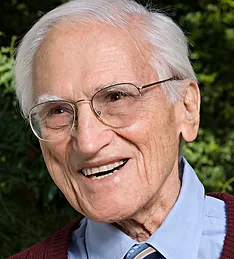 Since the inception of BILA, our treasure is the innovative process combined with curiosity about fundamental questions; We ask, how does it work?  What are the limits?  How fast is it?  We seek objective tests showing where in the brain do the fundamentals reside?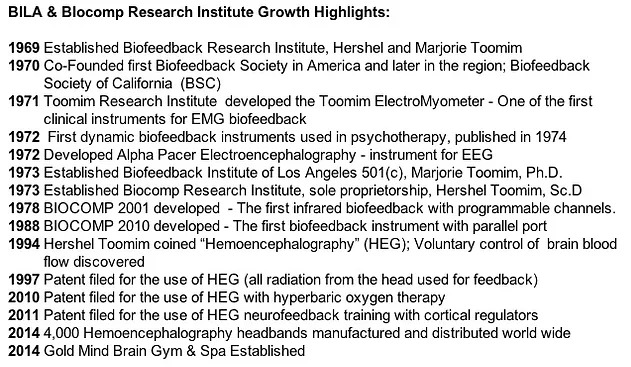 ​
Research and references pertaining to HEG neurofeedback, brain oxygenation and clinical application.
​EEG or HEG? That is the Question.
Hershel Toomim, Sci.D., 1998.
Intentional Increase of  Regional Cerebral Blood Oxygenation Using Hemoencephalography (HEG): An Effi cient Brain Exercise Therapy
Hershel Toomim, PhD, William Mize, MD,  Paul Yeekwong PhD, Marjorie Toomim, PhD, Robert Marsh AA, Gerald P. Kozlowski, PhD, Mary Kimball PhD, Antoine Remond MD, 1993
​
​Clinical Observations with Brain Blood Flow Biofeedback – the "Thinking Cap"
Hershel Toomim, Sci.D. and Marjorie Toomim, Ph.D.
​
​​​Why Does Neurofeedback Work?
​​​Hershel Toomim, Sci.D.
Neurofeedback using Hemoencephalography: An Additional Treatment for Autism and A.D.D.
Penkhae Limsila M.D., M.Sc. (About 65% Thai, 35% English)
​​​​​​​Anxiety, Anger, Depression, TBI and HEG
​​Hershel Toomim and Robert Joneson, 2000.
​
​​Passive Infrared Hemoencephalography for Traumatic Brain Injury: A Preliminary Investigation​
Near Infrared Hemoencephalography for Right Frontal Dysfunction, 
Robert Coben, Ph.D., BCIA EEG, D- qEEG
PASSIVE INFRARED HEMOENCEPHALOGRAPHY, 4 YEARS AND 100 MIGRAINES LATER
Jeffrey A. Carmen Ph.D.
Glyn Blackett, York Biofeedback Centre.